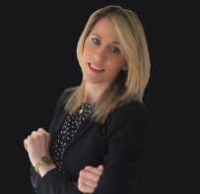 Firstly Hannah, please tell our readers about Make More Noise? [1]
Make More Noise is a PR and communications agency headquartered in Birmingham. I founded the business in October 2015 and, since then, we have grown into a team of 12 passionate PR and comms professionals who are all united in our vision to develop long-term relationships with our clients and deliver excellent results.
We work across both B2B and B2C sectors and naturally gravitate towards entrepreneurial, challenger-type brands that have interesting and impressive backstories, and/or a burning desire to disrupt and dominate their industries.
Why did you decide to start your own PR agency?
I worked freelance alongside a full-time agency role for several years to pay for my wedding and always knew it was something I wanted to do long-term, but I initially thought I would wait until both of my children were older to take the leap.
Then, in the summer of 2015, the agency I worked for went into administration and I was offered a new role in a 'rebranded' version of the same business. I simply didn't agree with this process and decided to create my own business from there. From official launch nearly six years ago, we have successfully grown year-on-year with a 35% increase in revenue over our last financial year alone.
Why do businesses need PR?
I was recently discussing the difference between PR and marketing with a client, and he rightfully said that marketing is like asking someone to date you and PR is the reason you say yes!
Essentially, businesses need PR to build a positive reputation, establish brand authority and to shape stakeholder opinions. With the growth of online platforms and social media, and in ever-increasingly competitive marketplaces, businesses need PR to stand out in the crowd, attract new customers and to be perceived as the 'go to' product or service provider within their given industry sector.
Marketing can tell you a brand is the best, but PR can show you why.
How have you balanced business with motherhood?
I genuinely think that has been the greatest challenge.
When I started Make More Noise, my children had just turned two and four and, although I had family members to help with school and nursery runs [for which I am eternally grateful], I still had to battle through the initial highs and lows of any start-up business combined with being present for every nativity play, sports day, and parents evening.
I think any parent with children aged four upwards would agree that school itself is a part-time admin job - with so many different fancy-dress days, school trips, fundraising events, non-school uniform days etc to remember. What's worse is that on the occasion that I forgot [and yes there have been several], I would feel like an utter failure.
However, over the years I have learnt to just let the small stuff go and rely on a lot of calendar reminders, post-it notes and friends to WhatsApp me the school newsletter minutes to ensure I remember the rest.
Also, as my children have gotten older [they are now eight and 10], they've taken greater interest in what I do and, although I still get the odd complaint for working during an evening or sending emails on whichever sports pitch I happen to be on the side-line of, they like the fact I run my own business and I believe [well, hope] that it shows them what is possible if you're persistent, believe in yourself and continue to work hard.
On the flipside to school admin, all business owners know that those first few years are crucial to start-up survival, and, as a result, I spent a lot of early mornings and late nights sat at my desk to deliver what was promised and establish a good reputation and positiveworking relationships with as many clients as possible. Referrals from existing clients were an excellent source of new business for us - in fact, they were fundamental to growth during those first 12-24 months and continue to be now.
What are the greatest lessons you have learnt since launching Make More Noise?
There are so many lessons I have learnt over the last five  to six years, but I think the following three have proved the most beneficial:
Surround yourself with good people: To build a successful business, you need to surround yourself with a good team of people who believe in your vision and are united in the same values, such as quality client service. It took me several years to find the team I have today, but I can honestly say they are the best group of people who are fun to be around, work hard and are committed to their roles.
Building a business can be incredibly lonely, so it's also important to connect with other like-minded business owners who understand the highs and lows of running a business and can inspire you to keep pushing and achieve more.
Deliver great service and the numbers will follow: As a PR agency, we understand the importance of reputation and work incredibly hard to deliver excellent service. As a result, we have managed to maintain a great client retention rate whilst continuing to secure new business and scale growth, which to me is incredibly important.
I think this is where many businesses go wrong - often, although their level of growth is nothing short of impressive, the speed at which they have scaled impacts
their service delivery.
Set goals and work hard: According to author Brian Tracy, less than 3% of people write down their goals, yet research has shown you are over 40% more likely to achieve them if you write them down regularly.
I used to think there was a secret to business success and there was something everyone else knew that I didn't. However, after meeting and speaking to lots of successful people and reading many business and mindset books, I have learnt that one of the greatest components in achieving success is setting consistent goals and working hard to achieve them. It sounds simple, but it's true and it works.
Finally, any words of wisdom for other business owners juggling parenthood?
Never compare yourself to anyone else.
Do your best, focus on your own goals and your own journey and you will get there - maybe not immediately, but, with persistence, eventually.
Hannah Haffield is the founder and managing director of Birmingham based PR agency, Make More Noise [2]