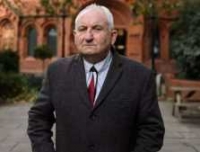 John Bird MBE is best known as the founder of the Big Issue [1] and, more recently, a member of the House of Lords. But his life's work around providing the homeless with a means to help get themselves out of their situation has been steeped by his own experiences, dating back to his childhood seven decades ago.
Born in a Notting Hill slum, he was homeless at the age of five and in an orphanage between the ages of seven and 10. "I started getting into trouble with the police when I was 10," he recalls. "I was in and out of institutions and boys' prison, and a homeless runaway. All that obviously greatly influenced the way I saw society and life, and it made me quite efficient in looking after myself. I was always looking for opportunities, and I was a great beggar. And I was quite entrepreneurial from a very early age, always looking for a way of earning a few bob, or in earlier times even stealing it."
His route out of the vicious cycle of poverty, homelessness and crime started when he learned to read and write in a boys' prison, at the age of 16. "After only a matter of months, I turned into a pretty good reader, and getting an education was an enormous opportunity to move forward," he says.
When he left prison, he studied at Chelsea School of Art, but more trouble would follow, and he ended up homeless again on the streets of Edinburgh, pursued by the police for petty crimes. Eventually he ran away to France, where he says he "became a Marxist, got rid of all my racism and small-mindedness and started my inexorable climb into the middle class". He returned to London, and started to carve out a career as a printer.
It was during his time on the streets in Edinburgh, though, that he first came into contact with Gordon Roddick, who would go on to found the Body Shop with his wife Anita. The pair stayed in contact, and in 1991 Gordon persuaded Bird to launch the Big Issue, based on the idea of the US title Street News. "He'd been in New York and had seen somebody selling the paper and was very impressed with the idea," he says. "The principle behind it was somebody would buy the paper, and earn their own money, and they would then hopefully proceed to turn their life around."
Bird was initially reluctant to have anything to do with it, having become disillusioned by what he terms "do-gooders" following his own experiences of living on the street. "My experience of charities was that they did everything other than give people a means out of poverty," he says. "I had a very heavy conviction that charities were part of the problem rather than the solution. But Gordon said I could do it whatever way I wanted, and he recognised the fact that I was not sentimentally attached to homeless people. The thing which separated us from virtually everybody else was that the vendor had to buy the paper."
Early obstacles
One early challenge was to persuade homeless people themselves to take the magazine. "When we first started there was a great reluctance by homeless people to take it, but two very drunk vendors started to sell it outside of Embankment Station and they did very well," he says. "They went back to where they slept rough and people asked them how they had got so much money. That was really the success of it; they weren't attached to us, they didn't really care about us, but it gave them the chance to make money." The magazine also had the backing of the police, he adds, as crime would fall in areas where homeless people were able to sell it.
Getting it all up and running and working efficiently was no easy matter. "It was a very ugly experience because the people we were working with were so distressed and disturbed," he recalls. "A few years before, the mental institutions had been closed down. We were working with incredibly disturbed people, who maybe five or 10 years earlier would have been incorporated into the mental health service, which almost disappeared." At one point the magazine had three sellers who used the name Jesus Christ, as well as a Napoleon and Elvis Presley, he adds.
The magazine started to pick up industry awards, and Bird himself was named editors' editor of the year at the British Society of Magazine Editors in 1993. In time, they also managed to build stronger relationships with the homeless. "They realised that we were going to be tough with them," he says. "But the most important thing was that the public themselves were willing to stop and talk to them, and it humanised them."
Over time, Bird's own role evolved, moving away from editing the magazine and professionalising the business - Bird describes the early days as akin to a student magazine - and focusing more on broader social engagement. "I started to work on spreading the paper to other cities and other countries," he says. "I started something called the International Network of Street Papers with some of the street papers that we'd helped to start."
He also found the Big Issue, and he personally, was starting to generate a high profile, in both media and political circles, and in 1995 used this to help start up the Big Issue Foundation, which offered advice to vendors around issues such as housing, health, personal finance and addiction. "I was very reluctant to start a foundation, because it wasn't charity that drove me on," says Bird. "But we realised that we could get our hands on some money that could be used to move people away from the streets, which was the most difficult thing. You could get them comfortable selling the Big Issue, but you needed a means to move them on."
This, in turn, led to the creation of Big Issue Invest, a dedicated arm that matches investors with social enterprises, charities and profit-with-purpose businesses, facilitating loans and investment from £20,000 to £3 million, run by Nigel Kershaw. Since 2005, it has invested in more than 400 social enterprises and charities across the UK. "My passion for it is based on the fact that it focuses not just on emergency provision but also prevention," says Bird.
Higher ambitions
It was this belief that saw him embark on a mission to join the House of Lords. "For our 10th birthday, I was interviewed by The Times, and the reporter asked me what I wanted to do for the next 30 years," he says. "And I said that up to now I'd been mending broken clocks and I wanted to spend the next 30 years preventing clocks breaking. That was a real major moment for me, because then I started to really look at the methodology of prevention and why society is not geared up to it.
"I realised, too, that I was being paraded by governments as someone who really knows how to think outside the box. And then I thought, 'Hang on, why are they saying that? It's because the box isn't working'."
In 2015, he was accepted into the House of Lords as a People's Peer. "I wouldn't have gone in under any political label, but as a People's Peer you can apply for yourself," he explains. "I wrote up my application, and over two years and a couple of interviews and lots of pushing, I eventually managed to convince them that I was a worthy candidate. That was largely because I had realised that the box was not working, and that the government was a great source of confusion and money-wasting, locking the stable door after the horse had bolted."
His focus since becoming a Lord has been to try to "create the intellectual space" around which issues such as homelessness can be debated. "We live in very intellectually inclement times, ideologically, culturally, socially and politically," he says. "I've been working under the influence of the Welsh Assembly, which got its Future Generations Bill into the assembly five or six years ago, and is now an act," he says. "I started to look at who was working at preventing problems happening, rather than responding to the problem when it arose."
He gives the example of government decisions around mine closures in the 1980s, the development of out-of-town supermarkets and student fees, as well as the closure of mental institutions, as ones which have had serious ramifications for society, some of which he believes could have been foreseen. "You realise that it's only by looking very carefully at the future, and making the future the focus of today, that you can go anywhere," he says.
His Future Generations Bill is currently going through Parliament, but Bird believes his case has only been strengthened by the Covid-19 pandemic. "We have had an enormous amount of expertise contradicting the orders of other people, and some really crass pieces of thinking," he says. "Six months before Covid hit, the national risk register closed down its pandemic committee because we thought we were better prepared than anybody else. It demonstrates a real inability to think about the future."
He's also extremely concerned about the long-term impact of Covid-19 on poverty and homelessness. "It's colossal; bigger than anything the Big Issue ever attempted," he says. "We work with between 7,000 and 9,000 people a year but if the government doesn't do something about it there will be hundreds of thousands homeless. There are 800,000 people who are behind with their rent and probably another 200,000 in the mortgage sector. We're talking about large numbers of people who, through no fault of their own, have lost their prosperity, and the government has yet to supply us with a roadmap as to how to get people out of slipping into homelessness."
Bird has set up the Ride out the Recession Alliance as a response to this; a network of businesses and charities dedicated to developing and implementing practical solutions to prevent families losing their homes, and help people remain in employment.
Making a difference
Bird is a firm believer in the power of business as a transforming influence, and would like to see more organisations adopt more of a social focus. "The future is entrepreneurial and social," he says. "That's the kind of material that we've got to be teaching children in our schools; how to look after money, how to look after themselves, to know how their bodies work, and how systems and business works, because the future is not going to be about mass employment.
"You may have a mass industry, but it'll all be hundreds of thousands of little operatives, and children will have to learn to duck and dive, and bob and weave. The best way to do that is by starting entrepreneurially, looking at creating businesses and social opportunity through that." The one thing he would have done differently, he says, is to have adopted more of a broader social enterprise focus earlier on, alongside developing the magazine.
For anyone starting up a business, Bird's advice is to thoroughly examine the marketplace and any competition. "Have you actually looked at what you want to bring in?" he asks. "Are you actually making a difference? An extraordinary amount of people start something up and don't realise that there's somebody doing that already. If you're starting a business, find out all the reasons why you shouldn't start. If you can answer all those then you have probably got a business."
Outside of work, Bird, now 75, is a keen writer and painter, and cycles to keep fit. "I've also got a 14 and a 16-year-old and they keep me very busy," he says. "I try and look after myself because I have a responsibility to stay around for them." He's not even considering retiring, he adds, especially in the wake of the issues created by the pandemic.
In terms of his own legacy, he regards his greatest success as changing the way in which society views the issue of homelessness. "Until the Big Issue came along, there was a sense, especially in homeless organisations and the way that government programmes were run, that you had a person in need and they sat there and you administered to them," he says.
"What I did was to say you have to include the homeless themselves in their own equation, and they have to be a part of the solution, and not simply a part of the problem. There were too many people involved in doing good, who were really doing it for themselves. They weren't necessarily helping people the way they should. And I helped to challenge all that, saying people should be involved in their own redemption, and stand on their own two feet. And if they can't, you help them until they can."
He's also proud of his recent work in holding government to account. "I would like to be remembered as the person who made government think deeply and carefully about how they spend our money and use our resources," he says. "They're not their resources; they're our resources. We appointed them. I would like to be seen as one of the thinkers who got government to do that."