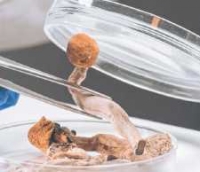 Medical cannabis has received a great deal of attention in the last few years - but as those in the know will tell you, it is actually only one of a whole collection of psychoactive plant medicines that are set to revolutionise healthcare.
Other psychoactive (or often "psychedelic") compounds that are undergoing clinical trials around the world, include those derived from mushrooms, truffles, cacti, and naturally derived compounds such as LSD.
These additional psychedelic plants and chemicals have shown remarkable potential to treat an array of mental health conditions, brain injuries and inflammatory conditions in a way that is unrivalled in modern medicine.
Cannabis products quickly appeared in many forms; and so the question on everyone's lips is: will psychedelics be regulated like cannabis?
An industry of many branches 
We cannot, however, simply compare general regulation for these two sectors. For a start, the recent explosion in popularity of "cannabis" in the UK was actually an explosion of non-controlled cannabis extract products, known as 'CBD products'. The CBD industry in the UK is an eclectic industry in and of itself, firmly occupying the 'wellness' space, which helps to relieve daily aches, pains and stressors (as opposed to treating intractable medical conditions).
The CBD industry therefore requires a significantly lesser level of regulation than licenced medicines, which means the barriers to market for CBD products are not as expensive, time-consuming or convoluted. So long as CBD wellness products like these do not make any 'medical claims' (i.e. claiming to treat or cure specific conditions), nor contain any controlled substances, they may continue to enjoy this more flexible legal status.
On the other side of the cannabis sector, are the currently rarer cannabis medicines. This full form of medical cannabis (which includes high-THC cannabis flowers), currently comprise products for treating life changing conditions, such as childhood epilepsy, chemotherapy side effects and symptoms of multiple sclerosis. Compared to their CBD-product cousins, cannabis medicines are tightly regulated and fall squarely under controlled drugs and pharmaceutical legislation.
Turning to medical psychedelics then, these compounds are developed to treat intractable mental health issues; they will be marketed as such, and will therefore be treated in law as fully regulated medicines, subject to the same rigorous controlled drugs and pharmaceutical regime that govern medical cannabis.
Medical psychedelics, and medical cannabis will not therefore enjoy the same high street product availability as the CBD industry, but they will boast far higher standards of safety, quality and efficacy, thanks to the stringent controls on their production, storage, transport, dosing, marketing and general product development imposed by the UK Medicines and Healthcare products Regulatory Agency.
With psychedelics, however, the regulation might not stop there.
Another layer to the puzzle
Curiously, and somewhat unique to psychedelic medicine, and the psychedelic-assisted psychotherapy ("PAP") world, is the amalgamation of therapy concurrently with ingestion of the medicine. The predominant model associated with psychedelic treatment is one where the patient ingests the psychedelic medicine whilst a psychotherapist is present to guide them through the experience. Then following, the patient attends a series of 'integration' sessions with the psychotherapist, where the patient can talk through and make sense of their experience.
One question that arises is whether any additional regulation will be required to safeguard patients in this novel and dynamic context of treatment? Bringing such treatments into the mainstream and combining them in this way may invite commercial participants with less benevolent motivations, add complexity and give rise to additional wellbeing considerations. On the other hand, additional regulation may be a superfluous step in an industry that initially struggled to get off the ground for all the legislative controls. At present, the psychotherapy industry is self-regulated, and there is already a substantial regulatory regime covering the medicines themselves, as discussed above.
Any type of regulation that is to benefit both sectors needs to take into account the unique setting within which both cannabis and psychedelics operate for their current and potential patients. Unprecedented in the pharmaceutical industry is the presence of these potential medicines that have not only been used privately, unsupervised and unlicensed within the national population (for recreation and wellness healing) but also have tremendous untapped potential in the medical sphere as well.
Policy makers will need to find a proportionate way of regulating this intricate play between the recreational, wellness, medical and psychotherapeutic contexts; an approach that protects patient health and awareness, while encouraging an easier and less convoluted route for academic research; and one that maintains the potential to legislate for an adult use market if the evidence and economics support it. 
Some things that are clear from the outset are that regulation will require responsibility distributed across a number of competent authorities, great discernment in the end products being delivered to patients and careful, multidisciplinary input from those who have been working closely with these compounds for many years.
Mackrell. Solicitors [1]  - is an award-winning, full-service law firm, with a truly global reach .Headquartered in Central London, with offices in the heart of Birmingham, the firm has been providing high-quality legal advice and services since 1845.
Mackrell.Solicitors set up the UK's first dedicated cannabis legal department three years ago and are now at the cutting edge of the current cannabis and psychedelics regulatory regimes.
The firm provides regulatory, corporate and commercial advice and services to the medicinal CBD, medical cannabis and psychedelics industries both in the UK, Europe and beyond. The firm also provides the full suite of legal support through its other departments, including its employment, property, litigation, private client, and corporate and commercial teams.
For further information please contact Mackrell. Solicitors [2]